Instagram is fast becoming a phenomenon as a social media tool, not only for independent users, but also for businesses. Since 2016 it has grown from a social image sharing app to a hotly used and generally favoured promotion tool. Instagram is undoubtedly a top superpower among rival social networks such as LinkedIn, Twitter and even IG's own parent company, Facebook. As of April 2017, Instagram had over 700 million monthly active users.
While continually increasing in popularity, brands are still trying to figure out how to use the platform to their advantage, and in this blog we will be sharing our wisdom on how to grow your Instagram account organically. From zero to hero!
Ten quick and easy ways to organically grow your Instagram account.
1. Use Hashtags. Hashtags are one of the most obvious and best ways to grow your Instagram account. Using the right hashtags can expose your brand to large and targeted audiences.

The Hashtags also help organise and categorise photos and videos which aids the process of content discovery and optimisation. For example, if you are an aspiring food blogger or healthy food brand then using hashtags such as #Superfoods and #Cleaneating will make your content discoverable among a vast collection of other 'foodie' style posts.

Any users searching for these terms are then going to see your content, and providing your content is good enough (see number 2), users are likely to engage with or better yet follow your page.

The use of hashtags has also been proven to increase engagement, as posts with even just one hashtag can average 12.6% more engagement than posts without (Research suggests that the optimum number of hashtags to use is 11.) Another reason attracting engagement and followers via hashtags helps to build a more interested and relevant community.
2. Create good content. Now while it may be personal opinion on what actually qualifies as 'good content', there are certain things that you create beautifully polished images. Instagram is a visual platform. People buy with their eyes.
If you are a start-up and are still forming your brand, the best way to find out what is likely to work is to look at what your competitors in the sector are doing. Find out what performs well for them and then take notes and even improve upon it.
If you are more established and already have a strong following you can use this to your advantage. You can see what your followers are interested in and create content based on what consumers actually want to see, so know your demographic and make your posts relevant. 65% of the top performing Instagram posts feature products so if you are trying to sell a product then use it in your content.
Lifestyle images are a great way to do subtle product placement. Think about the lighting, the symmetry, the background and even the colour theme of your images, as these can all effect audiences' perceptions. Last year we launched MyInstaPalette, a site that generates a colour palette based on the colours used in your images. This can make it easier for brands to design their content and keep it consistent.
Another side to creating good content is the caption that goes with it. While not necessarily aiding your post technically (you can't search for a caption), it could be the finishing touch in persuading users to hit that like button.
Over the years of working with our clients we have found that using humour, offering giveaways or simply asking an open question to which users can respond to can help give your engagement a little boost.
3. Use emojis. There's no doubt that Instagram is a visual platform through and through. In fact, even its captions and comments display images via emojis. Thanks to support from iOS and Android keyboards, now nearly 50% of captions and comments on Instagram contain at least one emoji.
With quicker adoption rates, emojis are the fastest growing language in the UK, evolving faster than ancient forms of communication, such as hieroglyphics. In 2015, in an effort to capitalise on the popularity of emojis, Instagram released support for them in hashtags. This means emojis (and combinations thereof) are now searchable on the platform. Following the rollout, Curalate found individual emojis were hashtagged more than 6.4 million times over a one-month period. So use emojis to heighten your discoverability.
4. Tagging. There are two ways of tagging on Instagram. You can @ mention someone in the caption or you can physically tag the photo with their user handle. While not a guaranteed way of landing you with extra followers or likes, it is a great way to increase your exposure.
For brands, tagging influencers is the best way to increase exposure. For example, by tagging an influencer in a post, this post will automatically be shown in their 'Photos of you' section on their Instagram page (provided their privacy settings allows this).
While influencers or users tagged may not always respond to a post they are tagged in, if you are lucky enough to get a response or a shout out then you will gain so much more additional reach and engagement which in turn will ultimately grow your followers. So it is always worth tagging brands or influencers in your posts even if it is just on the off chance they will notice.
5. Add a location to your post. Adding a location to your post will work in a similar way to hashtags. Users can search for these locations, and nowadays people are beginning to use these location tags as a search engine, more so then Google.
For example if someone is out and about in a new location and wants to go somewhere to eat they are likely to use Instagram to search for restaurants based in that area. Similarly if someone is on the follow/unfollow (see number 6) hunt they will search for users or pages that are in a nearby location as these are the people who are more likely to follow them back, simply because they share the same home town for example. Research has also shown that posts with a location tag achieve 79% more engagement than those that don't.
6. Following and unfollowing. This is a love or hate tactic among business pages, but the facts don't lie and when done correctly it can be very beneficial in growing your page. There are even apps that can make the process easier, for example Cleaner and Like Growers.
Bulk following people is a quick and sure fire way that you will gain followers back. The tactic is that after enough time has passed since you followed a bunch of accounts (over a weekend maybe) you can simply unfollow the people who didn't return the favour. An argument against this method is that some believe it lessens your credibility as a business, especially if you have a large amount of followers that actually have no interest or relevance to your brand or products.
For example, if people looked at your follower list and saw that a mechanic was following a nail art page then they are likely to discredit your page. However, there is a simple way to get around this and that is to bulk follow specific, relevant users, for example those who use the same hashtags as you.
Recently we have found that following users that use hashtags relevant to your business or are in the same location and have fewer than 500 followers are more likely to return the favour with a 23% follow back rate, as opposed to the 3% rate you get when following 100's of random pages.
7. Use all the available Instagram features. Social media apps change constantly and as a growing brand you need to be on top of all of these changes in order to look media savvy and to show users you are always on it, much like they themselves are. Instagram in its short life time has already introduced several new features, including stories and direct messaging among several others.
Stories are a great way of posting current, live content which can help grow your account, as users who see that you are active or engaging a lot are more likely to engage back with you. Stories currently have over 250 million daily users so the potential audience is huge. Users will also view you as being relevant and trustworthy, if like them you are trying to make use of all the platforms features, it will make even the biggest corporate brands seem human.
8. Regular posting, not as often as you think. While you are growing a business page posting regularly can put your posts in front of audiences more prominently and this is a good way to get noticed. However once you've established a good base and have a decent amount of followers, it is advisable to draw back on posting several times a day.
According to study carried out by dashhudson.com the amount of posts you should be posting per day, in order to optimise your page (based on other high performing Instagram pages, such as Nasa and Adidas football) is a small and subtle 2 posts per day. This way you are posting often enough to remain on your followers' radars, but not too much as to feel spammy. This also keeps the focus on quality and not quantity.
9. Share user generated content or run user generated campaigns. The driving force behind any brand or business page is the followers, the users, the fans. Instagram is no different. Users are crying out to be mentioned or featured on their favourite pages, ironically for the same purpose as you sharing their content. To grow their page.
User generated campaigns are led by a branded hashtag. This could be the name of your campaign or a slogan. For example, if you were a fitness brand you could run a campaign called #Runforfun and ask for users to share content of fun runs they have been on. Not only will you be able to use their content, making your brand seem popular and bigger than it may actually be but the hashtag again will be discoverable to users everywhere, who in turn may also send in posts using the hashtag if it's trending.
By using UGC it can make users feel wanted and instead of seeing your page as just another corporate business trying to make money they will view your page as relatable and something they share with you.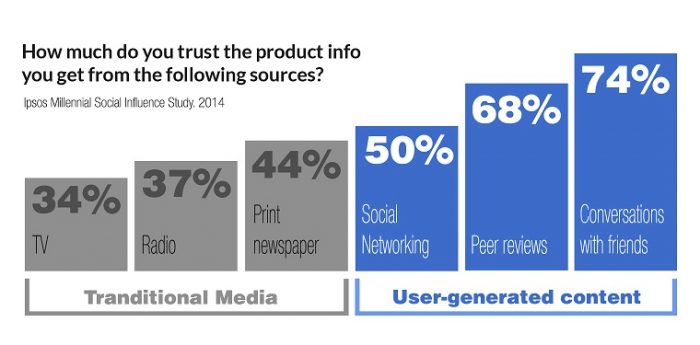 10. Make sure your page is activated as a business account. This should be an obvious one for any aspiring brands and businesses using Instagram. The reason? Without having an activated business account you cannot see your analytics and stats on how well your page and posts are doing.
This information is extremely relevant as can give you a great insight on what works well and what you could potentially be doing to improve. For example, if your video content is getting less reach and engagement than your still images, this would be an indication to stop using video as much and so on.
Instagram now also lets you archive any stories you post, so make sure this feature is also turned on so that you don't lose any valuable insight and helps you tailor live content.

Okay so we may have told you a porky pie about there being 10 ways you can grow you Instagram organically. There are in fact several other ways that you can optimise your channel, but so this blog isn't longer than the dictionary, we asked our social and design team to tell you what techniques they think can help grow an Instagram channel....in the form of a video. Hoorah!
(For a full transcript of this video please see the bottom of this blog)

If this wasn't enough insight into how you can grow your account, stay tuned for our blog next week as we will be bringing you a guide on how to curate the perfect Instagram account for optimum exposure.
Transcript
KallI: My top tip for growing your Instagram organically is to offer some free product around. Gifting, especially to micro influencers who are more likely to work with you on a free basis, can really help you boost your brand profile but it can also help to gain followers and engagements from an audience that's already engaged in your industry. Another good way you grow your Instagram is with random acts of kindness. We've done this with clients like Superdry. In this case, it's a great way to get your product out there, it generates user content that you can then share on your channel and it also helps to build a positive brand reputation.
Rob: My top tip for video on Instagram is... unless it's a vert high concept video, keep it to your story, it just works a lot better. You get better engagement.
Jess: My top tip to grow your Instagram organically is to have a killer bio. People need to know who you are and what you are about. It's amazing how much personality you can show in a couple of sentences or bullet points and if your audience is buying into your personality they're going to buy into your brand.
Charlie: One top tip to grow your Instagram organically would be to keep a constant theme going through all your photos and using similar hues and saturation.
Helen: My top tip for gaining followers on Instagram is to get a cute dog because everyone loves dogs.
Zoe: My top tip to grow your Instagram organically would be to use clean crisp images, nice colours… Also if you're going to use typography, keep it to a low amount. And yeah, good looking design is always a winner
Andy: Hi, Andy. Boss of the year 2018 in waiting. My one tip is when you're doing your follower game, go and follow people who actually have low followers themselves because they're more needy and easier to impress and they're more likely to follow you back. Creepy, but it works.