You can now share posts from the Instagram feed to you story!
This is probably the most exciting news to be announced this week and here at 10 Yetis we love an Instagram update! Today's added feature is no disappointment either.
Today Instagram announced the added a feature that's designed to let users share posts from their accounts and public accounts that they follow directly to their story feed as a sticker.
Instagram described the feature:
"When you come across something in feed that inspires you -- like a post from a friend raising money for a cause or a photo of a new design from your favourite brand -- you can now quickly share that post as a sticker to your story for your friends and followers to see."
Instagram users can share a feed post to a story by tapping on the paper airplane button below a post, which is the same gesture used to send it through a Direct message.

At the top of this interface, there's a new option to create a story. Tapping that option will transform the feed post into a sticker with a customised background that can be shared to a story. Like other stickers, the post sticker can be rotated, scaled, moved, and otherwise customised.

Every post shared to stories will display the original poster's username to make it clear who an image belongs to. Users can also tap on a post in someone's story to see the original post and more content from the person who shared it.

Instagram is only allowing content from accounts that are public, not private, to be shared to stories. Instagram users who do not want their posts shared to stories by other people can opt out in the settings section of the app.
Amazing! We think so too.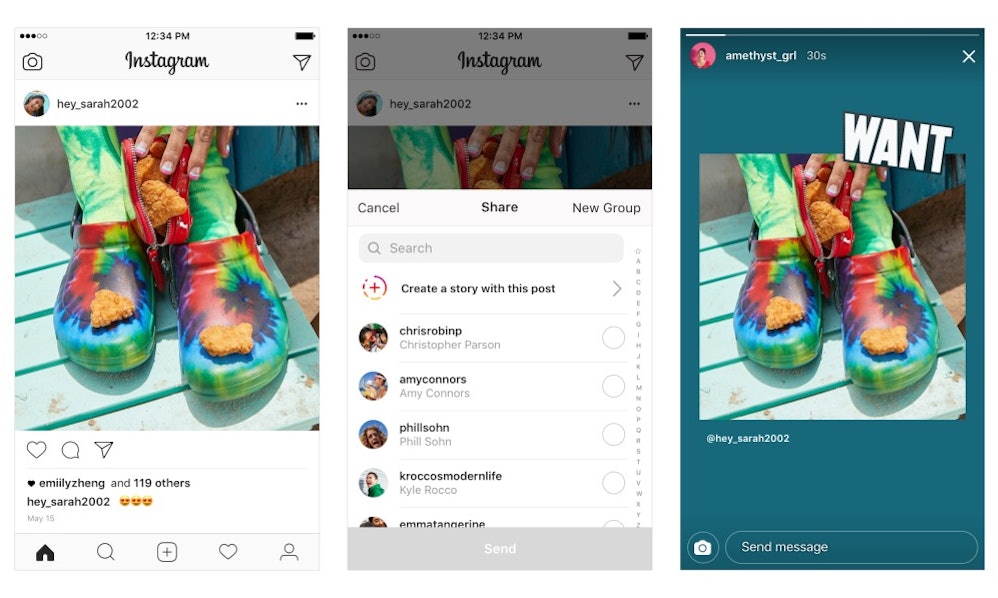 IBM could become traffic's best friend
The company has been granted a patent for a traffic management system that is powered by AI.
The system describes a way artificial intelligence can control traffic lights that rely on cameras to tell how many cars and pedestrians are at the surveilled intersection. The AI would look at the camera feed to see if cars were being held at a red light even though there were clearly no other cars or pedestrians using the street that currently had the green light.
The AI could then change the traffic light sequence to allow for stopped cars to proceed safely. IBM thinks its AI solution would work well because it is a task a human could easily do. "The fact that this sort of information is "easy" for a human to absorb and use suggests AI has the potential to help," said IBM inventor Steve Hobson.
Anything that stops us sitting in traffic for hours is a winner in our eyes.
Yanny or Laurel
Yes, it's been a debate for weeks now but apparently the answer if official. We now know what that blasted voice recording has been saying. Praise the lord, maybe now people can get on with their lives.
The person to thank or metaphorically murder for bringing this to light is Cole Feldman of California. Her tweet went insanely viral after she posted it on Monday evening, racking up a ton of likes and retweets and sparking debate all over the internet.
There were countless articles and conversations on the subject. Even linguist and audio experts were consulted, all of whom agreed that the difference in what people were hearing had to do with the frequency of the clip. For instance, some people heard different words depending on whether they listened to it on headphones or on speakers.
Now, Cole Feldman has explained how she found the clip and what it was intended to say. Feldman found the post on Reddit and decided to track down the original poster to see what prompted her to post the video.
The original poster, named Katie has told Cole Feldman that it was for her vocabulary project.
"I heard 'Yanny' and I knew that wasn't one of my vocab words," Katie said. "So I had my friend… listen to it, and he heard 'Laurel.'"
That's right, the word is in fact "Laurel" and you can hear the original recording on Vocabulary.com.
So that's it, there is no such word as Yanny and therefore the recording can't possibly be saying it! So now you know, can we all just move on from this insanity. Thank you.