A short but sweet social blog this week, with a heavy emphasis on how Snapchat has dominated the headlines all week due to a major app overhaul and several other mini update changes to its platform. And Facebook are reportedly testing a dislike button...or are they?

Enjoy!
Snapchat Update
This week, Snapchat rocked the world by rolling out the update it's been talking about since November last year. Yes that's right, they've finally taken the plunge and committed to the inevitable, a complete shake up of the original design.
The update has come with its fair share of criticism....in fact the majority of responses have been steeped in negativity, but Snapchat seems unfazed by the fact that several users have even threatened to delete the app due to the update. The company is clearly standing by its decision and believe it is an update worth having (even if it that reason is just because it'll increase their revenue).
Snapchat is very aware of the complaints but have simply responded by saying, "Updates as big as this one can take a little getting used to, but we hope the community will enjoy it once they settle in."
So what are these new changes? Those of you lucky enough to not have the updated app might be wondering...
The main change to the platform is how you find your friends stories. Whilst you used to be able to find these by swiping left on the main camera screen, you now have to swipe right on the camera screen which takes you to a new 'friends' page.
As well as stories this page will also include your personal messages and group chats. Which in turn automatically get their own group stories too.
The results are said to have been a bit of a mess and it is this part of the update that seems to be the biggest source of confusion for existing users.
Watching a friend's story hasn't really changed, you still have to tap the bubble and you can still skip them in the same way. However to re-watch a friends story, instead of the preview bubbles appearing you will now have to tap on their Bitmoji icon.
Just like Instagram, the order in which the stories are now displayed is no longer in chronological order!
The page now instead ranks your friends based on who you keep in touch with most and who you've been in contact with most recently.
This means that the easiest way to find new stories from anyone who doesn't qualify as a top friend could be to type their name into the search bar at the top of the page.
The send to page has had a makeover as well. The eight people you interact with most on Snapchat will sit at the forefront of this and at the top are options to add a new story to my story, our story or group stories.
To manage your stories now, you have to tap the Snapchat logo in the left corner of the main camera screen, this is also the place you can see your view counts and delete snaps from your story.
So this all means that now when you swipe left on the camera screen, you are taken to the discover page. Which much like before is where you can access shows, content from publishers, stories from people you follow but aren't friends with and snaps from creators, Snap Map and Our Story.
You can also now unsubscribe or click a 'see less like this' button which will remove certain publishers from this page.
While the changes may have upset the public, Snapchat is focusing on the more selfish, wider achievements the update can cause. The alterations have been designed to help Snapchat make money, and the company this week revealed strong fourth-quarter financial results.
"There is a strong likelihood that the redesign of our application will be disruptive to our business in the short term, and we don't yet know how the behaviour of our community will change when they begin to use our updated application," Snapchat CEO Evan Spiegel said to coincide with the launch.
"We're willing to take that risk for what we believe are substantial long-term benefits to our business."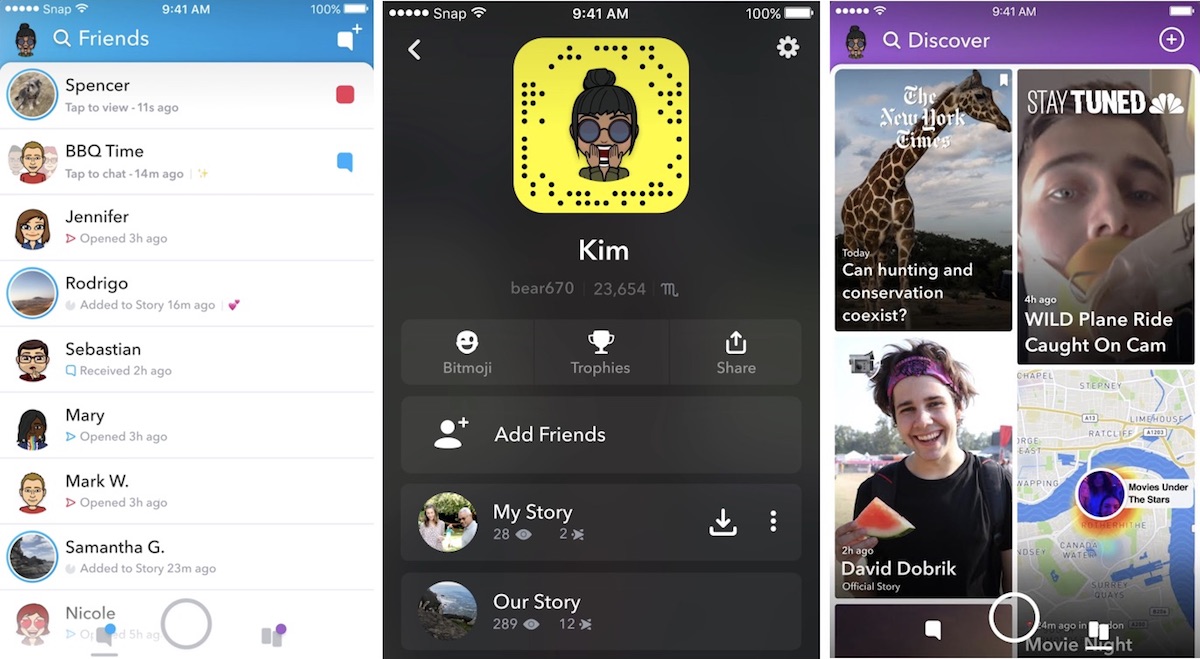 Is Facebook Dislike Button Finally Becoming A Reality?
Well not really.... #sadface
Facebook users around the world have been vying for a 'dislike' button for years and a new feature which is reportedly in the beta testing stages will be the closest thing that users have seen so far.
On Thursday multiple users managed to screenshot Facebook posts and comments with a 'downvote' option next to them. The social media giant confirmed that it is true, they are in fact testing a new 'feedback' option on public posts, but it's not being called a 'dislike button'.
Facebook said in a statement "We are not testing a dislike button. We are exploring a feature for people to give us feedback about comments on public page posts. This is running for a small set of people in the U.S only."
When tapped the downvote button hides a comment and gives users the option of flagging it as 'offensive', 'misleading', or 'off topic'. It's likely part of Facebook's initiative to prioritise legitimate information sources, cut down on fake news and increase meaningful interactions between users.
While the excitement is almost too much to handle, Facebook have revealed that this is just a temporary test, so it's unlikely the feature will be rolled out globally.