So, this Thursday sees the start of a £20m marketing and advertising campaign for Virgin Media, the new name for NTL:Telewest since the takeover.
Virgin are masters when it comes to marketing and with the ever young Branson as the figure head I am sure they will get columns inches aplenty when it all goes live.
The £20m ad campaign is being fronted by Uma Thurman offa that Pulp Fiction movie. Apparently teaser campaigns ran at the weekend and there is a website called ComingVsoon.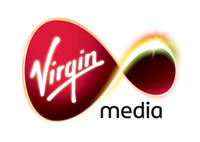 The Virgin Media Logo

One of the Teaser adverts