Spooky really, I was going to blog about Virgin maybe starting to feel the heat of the Sky TV campaign and losing ground in their war with Murdoch's empire and then this article in the Media Guardian popped up today (you have to subscribe, I know, flipping annoying! - but worth it).
Sky has really gone at Virgin Media hammer and tongue in the last few months, full page adverts in national press highlighting why they consider themselves better than Virgin, loads of inserts into seeming every mag I get at the minute talking about the TV & Tinterweb package deal and of course their eye catching livery of vans always on the road.


The Mighty Haired Richard Branson
Virgin of course has its own campaign on the go, I would say headed up by the best ad execution for broadband I have seen in a while in Uma Therman and the "hot, diggity damn" advert promoting Virgins high speed braodband. I have seen a few Virgin media vans on the road, no doubt the old Telewest and NTHell vans are being re-liveried as I type, but no where near as eye catching thanks to the relatively dark branding of Virgin Media.
Whilst I am rambling on I am not sure the Virgin Big Brother idents are working as hoped, hence them starting to slightly change from the original format?
The thing is, I LOVE BRANSON and his Groovy Virgin brand. I want him to win the battle and reign supreme but maybe just maybe this time it is proving to be a step to far?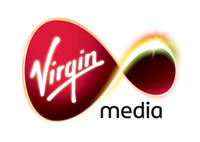 A light execution of the Virgin Media Logo - hoorah!
What Sky should be and is no doubt aware of is the fact that Branson and Virgin has a tidal wave of public support on his side and if he chooses to energise this support against Sky then Murdoch could struggle.
I must admit, I secretly hope that Virgin has gone to ground at the minute as it is re-energising the troops ready for an all out assault.