We just cannot help it! I am now at the extent that I am thinking about 10 Yetis becoming a consumer champion ourselves as we just keep upsetting the big retail companies.
So, a few days ago word started leaking out that Littlewoods was hunting down web shoppers who had used discount codes not meant for them and the company was trying to recoup the lost money.
As I am sure you all know, we actually represent the UK's largest discount code company, MyVoucherCodes and they let us know that it was not just Littlewoods who were doing this and the corporate retail beast that is Tesco is also trying to hunt down and eradicate discount codes that are on the web that shouldn't be.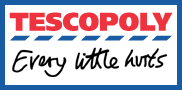 Tesco targets rogue discount codes
Add Waitrose into the fray and all hell has broken loose. We have put out a story this morning with the MD of MyVoucherCodes going on record to tell all about the communication he has had with the retail giants and how legal action has been hinted at.
All good fun.
Bang goes our chances of ever pitching to one of the big supermarkets?