I was reading in the Guardian's tech section yesterday that over in the USA the Federal Trade Commission is going to begin an investigation into social marketing with the end goal at this stage to get companies to declare their campaigns instead of being sneaky.

I Love the Guardian
Bit odd given that the internet community as a whole generally polices these things quite well, take for example the Sony grafitti marketing campaign that street artists turned against and abused... quite funny.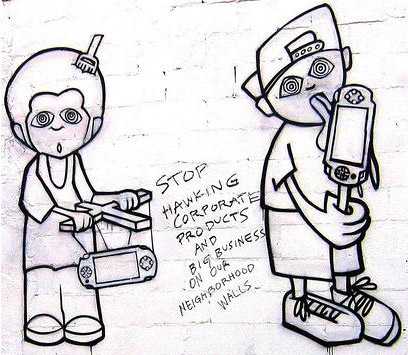 Not quite what Sony hoped for
On Myspace it is pretty easy to spot the corporate pages and you have to be some kind of Noel Edmonds to get sucked into thinking it is true.
The Guardian was talking about this as part of its story on Microsoft's buzz game (Vanishing Point) to promote Vista that features some character called Loki (or something!)
Here is the blurb from Microsnot:
START:: Vanishing Point is "a large-scale online and off-line collaborative puzzle game," Microsoft said. Players register online for a sweepstakes — first prize is a ride to suborbital space, which Microsoft termed "the ultimate vista" — and then work together in forums and on collaborative Web sites called wikis to solve riddles from Loki, Microsoft's "Puzzle Master." ::END

Captain Bill's Latest Creation